Muslim Matrimonial & Matrimony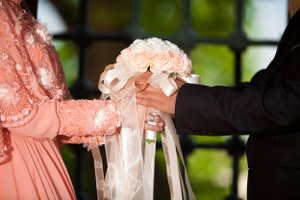 Are you looking for Islamic women who are interested in long term relationships? Or perhaps a Muslim man to marry? These days, many Muslim singles are turning to the internet in order to meet their Muslim matrimony needs. But with so many different sites out there that promise to put you in touch with other single Muslims, how do you know which one is right for you?
If you want to take a serious shot at Muslim matrimonials, we recommend opening a free account at IslamicMarriage.com. On our site, you'll instantly be connected with the world's largest collection of Muslim singles, many of whom might be looking for someone just like you. And unlike many Muslim matrimonial sites, you'll be able to get started for free.
With a free IslamicMarriage.com account, you can browse through our collection of Muslim singles and see if there's anyone out there who might your Muslim matrimonial match. You can also set up a profile for yourself so that other single Muslims can search for you. Your profile can include all the information you want to share about yourself, as well as pictures that you can upload to show yourself to our other members.
With our free membership, you can also read all of the great messages sent to you by our other members. You'll also have the option to send a message to any of our members that might catch your eye. But if you really want to open up the lines of communication, you'll want to upgrade to our Platinum Membership option. This will let you send as many messages as you like and talk to other Muslim singles through out instant chat service. Before you know it, you might be meeting someone who could satisfy all of your Muslim matrimonial dreams!
We know that finding that perfect match can be a tough process. But at IslamicMarriage.com, we give you all of the tools that will help you start your Muslim matrimonial journey, and we'll do everything we can to help you meet the Muslim woman or man of your dreams. If you're ready to give us a try, sign up for your free IslamicMarriage.com account today!
In many societies, arranged marriages are the norm. In the context of muslim matrimony, the process of arranging a matrimonial alliance starts with a marriage proposal. The proposals are received by the parents of girls of a marriageable age. Relatives, neighbors, matchmakers and family friends recommend alliances that are thought to be compatible. A final choice is usually made from among the proposals that are received. The more proposals received the higher the number of choices that are available to choose from.
The parents and the would-be bride or groom may have specific preferences regarding the spouse they are looking for. These preferences could include the status, personality, qualification and a specific location. The alliances they receive through traditional means may or may not meet the expectations they have. Broadening the search enables them to look for the perfect match from a larger pool of eligible singles. Muslim matrimonial sites offer an easy access to a huge number of single Muslims based in the vicinity and around the globe. Signing up for www.muslim matrimony.com gives instant access to thousands of profiles of Muslim singles. You can then search for potential matches according to your specific preferences. The muslim matrimony log in is the key that unlocks the door to finding the perfect match.
In India, the region you belong to influences your lifestyle, language and food choices. Muslim matrimony India means that even when people are from the same faith; their choices are different as they come from different regions. Marriages are usually arranged between singles belonging to not only the same faith but also the same region. A major preference when looking for a match is when single Muslims look for compatible matches from their own city. Muslimmatrimony.com connects Muslim singles with potential partners based in their own neighborhood or in a city of their choice.
Muslim singles from Kerala can link with potential partners from their own religion and region on through a site dedicated to Kerala muslim matrimony. Similarly, Tamil muslims can find perfect matrimonial matches on a site devoted Tamil muslim matrimony. Single muslims based in Banglore, Hyderabad or Chennai can find their lifelong partner on muslim matrimony Bangalore, muslim matrimony Hyderabad and muslim matrimony chennai sites.
The parents and family members of singles play a central role in fixing a matrimonial alliance. The parents may set up the profile of the singles, browse through the profiles to find compatible matches and are often the ones who correspond with the short-listed potential partners. Once communication has been established, online interactions take place to determine if the alliance is suitable. When suitability is confirmed, the parents may meet the family of the potential partners to take things forward. The would-be groom and the would-be bride may meet at this point to check if they are compatible with each other. The first meeting and any that follow are usually in the presence of a chaperon. When all things fall in place, the date for the marriage is fixed.