Free Muslim Matrimonial Sites USA & UK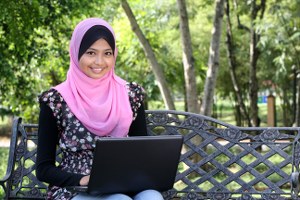 Today, Muslim matrimonial sites are popping up everywhere you look. Each site claims to be your best chance to meet the Muslim woman or man of your dreams -- the one you'll spend the rest of your life with. And yet, so many Muslim singles find that they have little success at these sites thanks to small membership pools and difficulty finding matches that share their background, values, and goals in a relationship. That's why we've created IslamicMarriage.com. At IslamicMarriage.com, we have one of the largest collections of Muslim singles anywhere on the internet, making our site the best place to reach your Muslim matrimonial goals. With countless Muslim singles from every corner of the globe, we're certain that you'll find a suitable match in no time!
Unlike some Muslim matrimonial sites, we allow you to get started for free. You can sign up for your account in just minutes with no financial commitment, and get started right away on creating a profile that will attract other Muslim singles. You can also post pictures and answer questions that will explore your values and views on a number of different topics, all of which will help us find you the most compatible matches possible.
You'll also have the ability to search through our enormous database of Muslim singles. If you find a potential match that suits your fancy, you can send them a message and even read any messages they might send back to you! If you'd like to open the lines of communication even further, you'll be able to upgrade to a Platinum Membership, which will allow you to send as many messages to our members as you like. This will open up our instant chat program, which will allow you to have conversations with the Muslim singles that interest you without requiring you to share any personal information you don't feel comfortable giving out.
Here at IslamicMarriage.com, we feel that safety and comfort are the most important aspects of all good Muslim matrimonial sites. That's why we're so proud of our Five Star Safety Program, which helps protect our members from any of the problems commonly see at other Muslim matrimonial sites. We provide tools for our members to block and report suspicious accounts, allowing you to focus solely on getting to know members who might someday become your lifelong partner.
Joining a Muslim matrimonial site can be a big step towards finding the love of your life, if you choose a site that gives you the best chance possible to find that perfect match. With more Muslim singles looking for Muslim matrimonials than any other site, there's no better place to start looking than IslamicMarriage.com. If you'd like to join the best Muslim matrimonial site in the world, sign up for your free account today!
In most cultures, getting married is an indispensable part of life. In Islam, the marital union is considered to be sacred and getting married at a particular age is socially imperative. Cultural diversity exists within the Islamic faith; regional influences impact the outlook, customs, attire, language and food habits of Muslims from a particular region. The way of life may drastically differ due to these regional differences. This, in turn, influences matrimonial choices, as matrimonial alliances are sought from not only within the same religion but also from the same region. This is believed to require little or no lifestyle adjustments for the couple and ensures higher harmony and compatibility in the marital union.
Previously, in the Islamic culture, proposals for marriage came from matchmakers who helped match singles from the same background with a compatible partner. The proposals also came from the extended family and from within the friend circle. This trusted network worked well as long as the alliances were arranged between singles based in the same neighborhood, city or country. As more people move to different locations and various international destinations for education, work or business, finding the ideal match from the same region and religion has become more challenging. Matrimonial websites take off where the traditional matchmakers leave off, they work to link potential partners, based anywhere in the world, with each other. Before potential partners meet in person, factors such as compatibility are already ascertained through the various means of communication available on the sites.
Free muslim matrimonial sites are an invaluable resource when looking for matrimonial alliances as they attract a huge number of single Muslims looking for partners from within their own community. These sites offer the service at no charge to you and make searching for matrimonial alliances according to your specific preferences convenient and easy. Muslim singles based in the UK or in the United States may have a limited number of friends within their own community and not many members from their extended family may be based in the same location. This can impact their search for potential matrimonial partners, as they then cannot rely on meeting potential partners through this network. Muslim matrimonial sites uk help single muslims looking for marriage connect with several potential partners quickly and effortlessly. Similarly, muslim matrimonial sites in the usa link single Muslims in search of a matrimonial partner with interesting potential partners based in the United States. Getting to know potential partners well through messaging and chat helps find the most compatible match before arranging to meet face to face
Indian muslim matrimonial sites enable Muslims looking for potential matrimonial partners link with eligible singles based in their vicinity or in a country of their preference. The muslim matrimonial sites in india help widen the search for the perfect partner and help find a match from the same religion and region. While Indian muslim matrimonial sites broaden the search for a marriage partner and make matches between singles based in different locations and countries possible, muslim matrimonial sites in kerala are dedicated to muslim singles from this particular region. Kerala muslim matrimonial sites match muslim singles from Kerala, whether they are based in India and abroad, with a partner from their own religion, sect and region.
Interesting links on Muslim Matrimonial
http://en.wikipedia.org/wiki/Marriage_in_Islam