Muslim Sisters Chat Rooms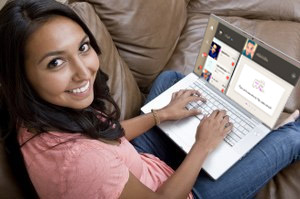 It is likely that the main reason why you would like to chat with people on the Internet is because you would like to find your soul mate or someone you can spend the rest of your life with. Of course, not everyone can be very lucky but some people meet people that they can call friends for the rest of their lives.
Chatting with other people may seem appealing especially if the person looks attractive in the display picture and even when you have video chatted through webcam but there is a big chance that looks can be deceiving. How sure are you that the person is going to be nice when you meet in person? Muslim men are not known to be particularly bad but there is still a chance that you will come across someone that you cannot trust.
Seeing someone immediately just after chatting a few times is not recommended. You should always get to know the person first. Once you are satisfied with all the details that you have learned about the person, which is the time when you should start making plans about meeting up. Just make sure that you are truly meeting up with a Muslim man and not someone who is pretending to be Muslim because they have realized that you are a Muslim. If you are a Muslim man who is looking for Muslim sisters in chat rooms, you should try ethnic dating sites as well.
Here are some tips that you have to remember:
There are some ways by which you can tell if the person is a real Muslim or not by asking him some questions that only Muslims will know. You can probably ask him if he likes pork barbecue and if he says something like eating pork is against your religion, you can be somewhat sure that he knows a few things because he is Muslim although there is a chance that he only knows because he has done a bit of researching.
Make sure that you will use different nicknames instead of your real name when you are chatting because through your real name, various details about you can already be searched. This can make you a potential victim.
When an e-mail is sent to you by the person that you are chatting with, be wary about opening the e-mail because this might contain some viruses that will only seek to get your personal information so that it can be used against you.
Always check the preference and settings of online dating sites this way you can filter whom you would like to chat with. There may be times when you only want Muslim sisters chat with friends. This is possible too.
Meet up with the person in a public place. This way you can be sure that you will still remain safe because the person cannot do anything if there are a lot of people around.
Interesting links on Islam & Marriage
http://en.wikipedia.org/wiki/Islamic_marital_practices
en.wikipedia.org/wiki/Marriage_in_Islam
http://islam.about.com/od/marriage/tp/marriage-hub.htm