Islamic Marriage Sites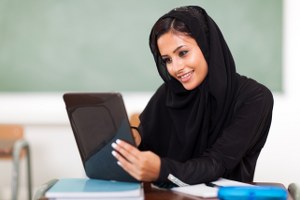 You may be at a stage in life when you feel ready for commitment or it may be that you are of that age when it is considered the right time to marry and settle down. Finding the perfect match for marriage can happen without much effort but at times it could be like looking for a needle in the haystack. One significant reason could be that the singles that meet your preferences and expectations for the perfect spouse may not be located in your immediate vicinity.
In the Islamic culture, finding a match for marriage happens with the active participation of the family. In the past, matchmakers, relatives and family friends would play a crucial role in bringing a compatible matrimonial match together for marriage. There has been a gradual shift away from this for myriad reasons. As more people choose to study, live and work around the globe, the network of friends and relatives that were traditionally relayed upon to introduce potential matrimonial partners, tend to thin out. Being based in a location without this trusted network can make connecting with the perfect "one" for marriage a real challenge. Islamic dating sites attract a huge pool of Muslim singles based around the globe. These sites are dedicated to singles from this faith and are committed to matching compatible partners by giving them a space to link with and interact with each other.
Dating in Islam is according to the guidelines specified in the religion. In keeping with the religious norms, when looking for a spouse, many singles leave the searching part in the capable hands of their parents. The browsing through profiles and the selection of potential partners are often done by the parents, older siblings and relatives. A guardian is chosen to contact potential partners. In the Islamic faith, marriage is a sacred contract and dating between potential partners is acceptable only when the intention is marriage. The potential partners are closely scrutinized, the families meet to determine the suitability of the match and all pros and cons are weighed carefully. Prayers to Allah, for his guidance, precede making the final choice regarding the matrimonial partner.
Muslim singles based at a distance from their families often turn to the online dating resource as a quick and convenient way of linking with several potential matrimonial partners. They search for potential partners independently and date them to find the match that is most compatible to their needs. Although, due to the differences in location, their families may not be as actively involved every-step of the way, their approval is an essential element when making the final choice of partner.
Dating - Islam: Questions You Were Always Afraid to Ask
Interesting links on Islam & Marriage
http://en.wikipedia.org/wiki/Islamic_marital_practices
en.wikipedia.org/wiki/Marriage_in_Islam
http://islam.about.com/od/marriage/tp/marriage-hub.htm